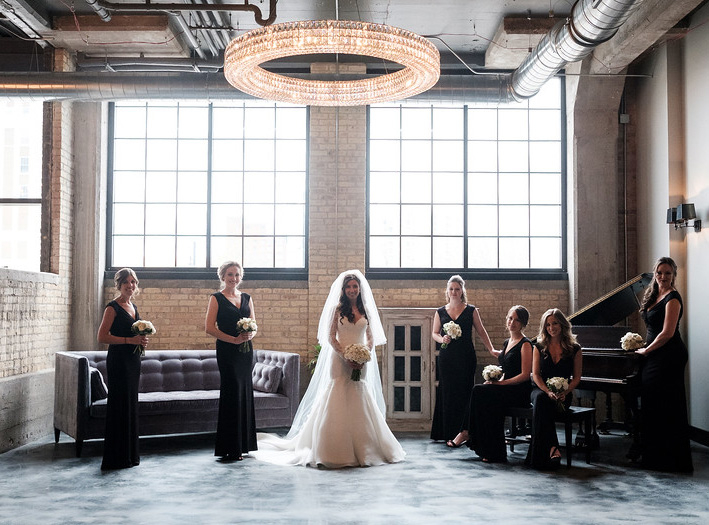 The Standard's breathtaking lobby is the perfect first impression piece for all of your event guests. With high ceilings, beautiful statement artwork and furniture (including a refurbished antique grand piano) and the perfect amount of finishing touches, our lobby leaves a lasting impression of sophistication and class. This space is the first level of our three-story event venue and includes a coat check area, restrooms, our Event Coordinator's office as well as our Lobby Conference Room.
Our largest indoor space here at The Standard sitting 280 comfortably for dinner or up to 400 for a mix and mingle structured event. This space has all of the character and charm of the original design of the facility. The brick walls are lined with stunning 10ft Restoration Hardware mid-century mirrors and all of the lighting is able to be brightened or dimmed depending on the ambiance you are hoping to create. The dining hall also has a full bar as well as our kitchen tucked behind two custom barn doors. Don't worry about having to go upstairs or downstairs to use the restroom, this level features two large restrooms – one mens and one womens – so your entire event can be located on this level!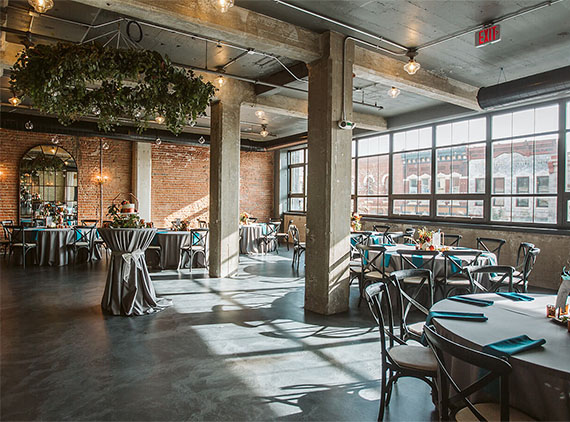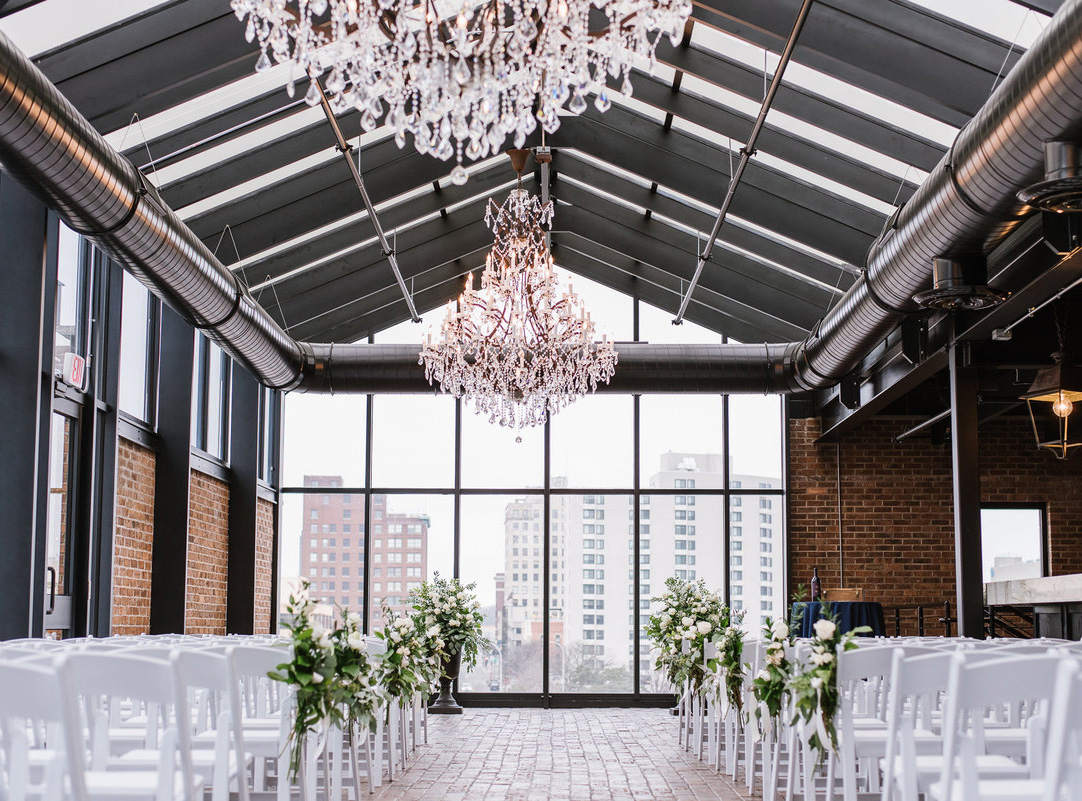 The Standard's Rooftop Conservatory is the first of its kind in the Chicago Suburbs. On the top story of our facility, our glass conservatory is the most astonishing finishing touch to our breathtaking venue. It is the perfect indoor space for cooler weather to host your event celebration or, can also serve as a  space for your guests to enjoy cocktail hour. After dinner, the conservatory is often utilized as a space for dancing and celebration! With exposed brick, ALL natural light, two stunningly beautiful crystal chandeliers, and a marble bar the rooftop conservatory is truly picture perfect!
Even though our facility is packed full with beautiful spaces, this area is definitely our favorite. Sitting atop downtown Rockford it has a front row view to the skyline of the city as well as the Rock River. Two thirds of the space is outside on a rooftop deck, lined with gas lanterns and beautiful string lighting. This rooftop has been used for countless events and parties. The rest of the space is inside of a one-of-a-kind glass conservatory holding the bar, sound system, tv and restrooms.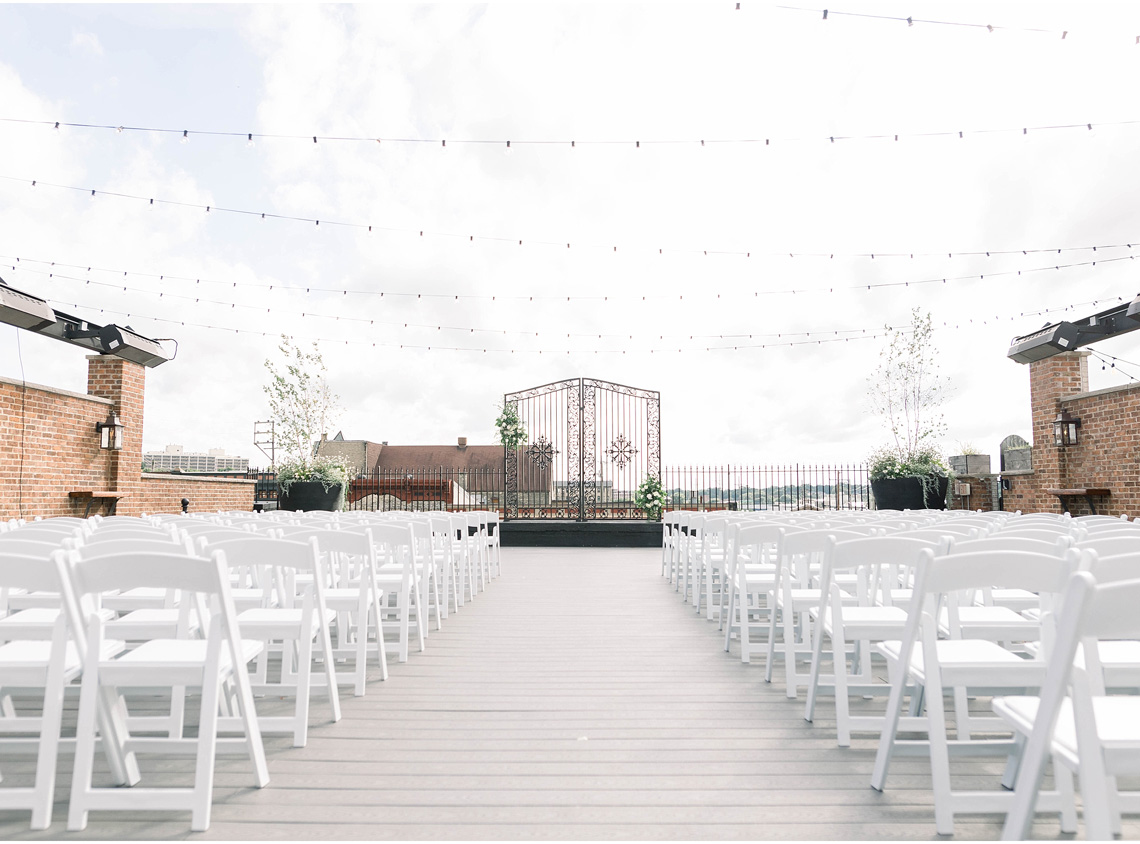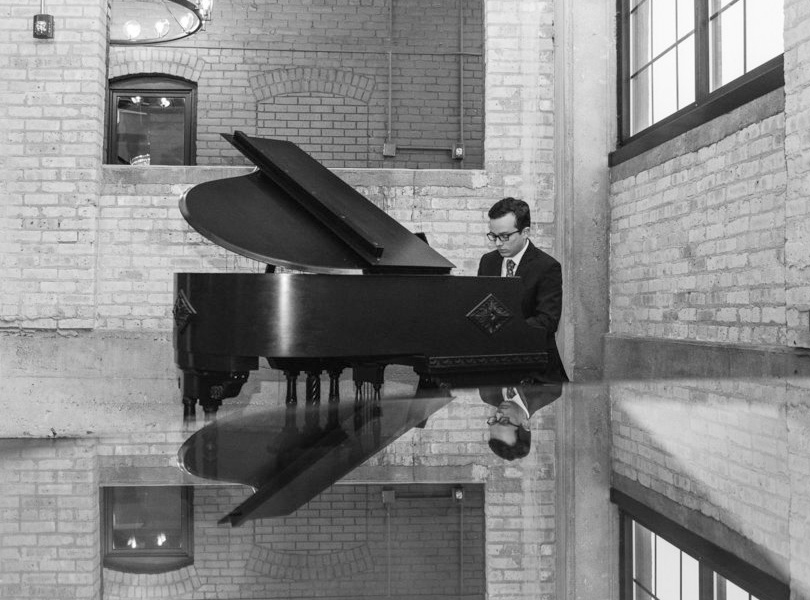 Located only a few steps away from our main entrance our Lobby Conference room would be great for a bridal shower, baby shower, company luncheon or group photoshoot. This room is utterly breathtaking and has a gorgeous amount of natural light that shines through the custom industrial chic window frames. Similar to the lower level conference room this space also has a conference table seating 15 people, a velvet couch, two accent chairs, a full length mirror, built in bar with mini fridge and a private restroom.
Lower Level Conference Room
Located on the basement level of our facility this room is perfect for a private small group gathering or corporate meeting. This area is equipped with a massive custom conference table sitting 22 people, private restroom, Two TV systems, two large reclining leather couches, a ping pong table and a built in bar with mini fridge.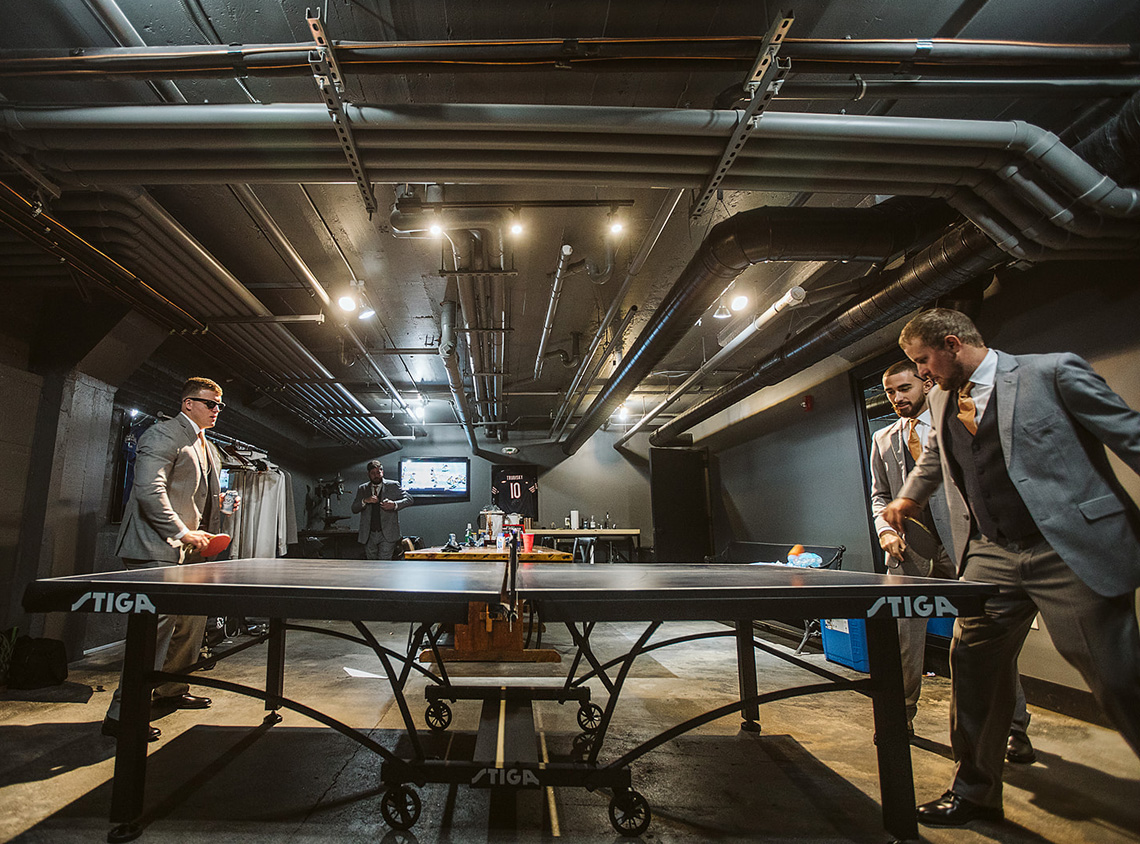 Schedule a tour and experience our venue firsthand!